So, Vicki Momberg has finally been released from jail after having used a "racist" expletive whilst being robbed. Likewise, Penny Sparrow has also had her entire life destroyed simply for comparing Africans on the beach to their alleged evolutionary forebears. So is it PC to deny evolution now? However blacks have been allowed to call white's anything they want with total impunity. It has honestly become time that someone tells the truth about South Africa, and the prospects that awaits us all in the new year. In short the country has gone stark raving mad under the heavy burden of overt political correctness, with the incessant demand culture of the majority black population, fueled by communist everything for free ideologies.
It is now so out of control that looting, burning and criminals arriving on your doorstep demanding what is yours – raping and killing just to make a point – is a daily occurrence. The country is dazed and stunned, especially the white minority. To add insult to injury, the churches have no answers, except to stand idly by and say "go and look for the problem with yourself". Yet it is not you who is burning, killing, stealing and raping, so what now?
The only sure thing ahead, is that there will be more economic decline, rolling blackouts, more destruction, rotting and decaying of infrastructure, more violent attacks, rape and murders on innocent civilians. This is a given and the only question is who is next. People are asking "what now?", "What next?", "When is somebody going to do anything?".
Facebook is awash with pages vying with one another to post the newest atrocity as click-bait whilst failing to provide answers or solutions. The same comments then follows as it did for years. " What now, what next, when is somebody going to do something? " It is time we take it slower next year. We need to reflect and start to learn to think for ourselves as a first step. Yes, we need to share news that affect us, absolutely we do, but we also need to analyze, see the bigger picture, not miss the important between the newest flood of bad news. Read between the lines.
We need to learn to distinguish between those organizations out there fighting hard for us minorities and those pretending and providing false hope whilst profiteering. Many mainstream news outlets like Media24, Netwerk24 and Caxton Press regularly take ownership of information about farm murders for profit, and threaten you with lawsuits if you dare use it! Meanwhile MyBroadband will brand, defame and slander you as "fake news" if you threaten their lucrative advertising income by sharing their stories. Clearly no sense of duty to the community or country among MSM.
That is the first step. If we don't take that first step, there is no hope. And hope is all we have. If people are going to keep falling in the trap set by liberals, that standing together as a group is wrong, that we should distance ourselves from groups and be ashamed of our identity, there is no hope either. The international liberals led by George Soros as it is, want you as a white group weak and insisting on your individualism so that you are weak, defenceless and easy to manipulate.
Wake up first, read, analyze and think. Without that all hope is lost. If you want to survive, you need to realize that individualism won't help and the liberals and black nationalists know it and want it that way. They want individual rights to trump community or sovereign national rights, so that the nation state becomes powerless against the onslaught of globalism.
Only movements bring change. You need to know that and make it part of your thinking. A worldwide movement of people insisting on identity and culture will stem the tide of the borderless world, devoid of identity and culture that Soros and his ilk have in store for us all. We need to make that part of our thinking here at the southernmost tip of Africa as well. #Movement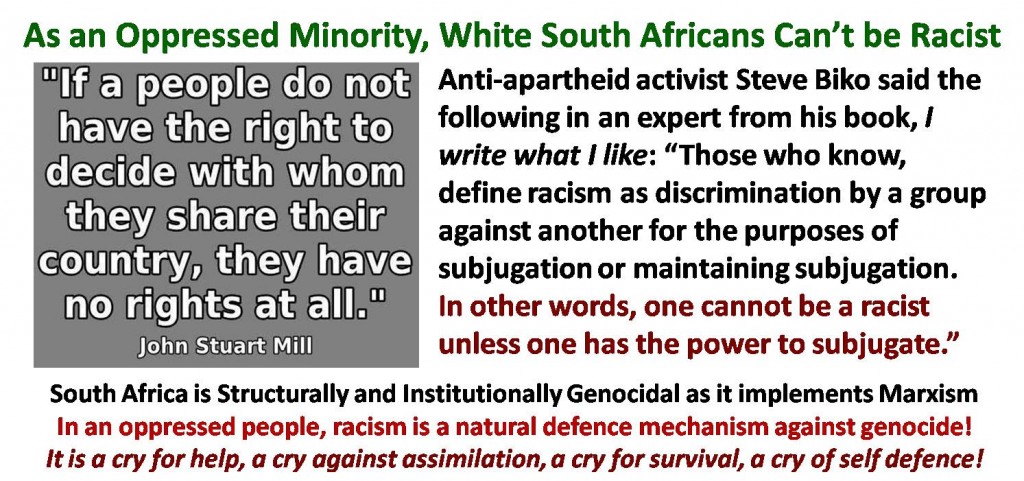 See also: " As long as it's not white" – Racist nature of South African state revealed
---